Embracing the future of high pressure washers
Register your product
Up to 5-year warranty
For ARXP high pressure washers a 3-year warranty extension is available, in addition to the 2-year cover provided by law. So you can enjoy a total warranty of up to 5 years.
Register
Unbeatable performance
In minimal size
A high pressure washer that provides the best performance in its class with the most compact design on the market. This is the challenge we set ourselves.
Discover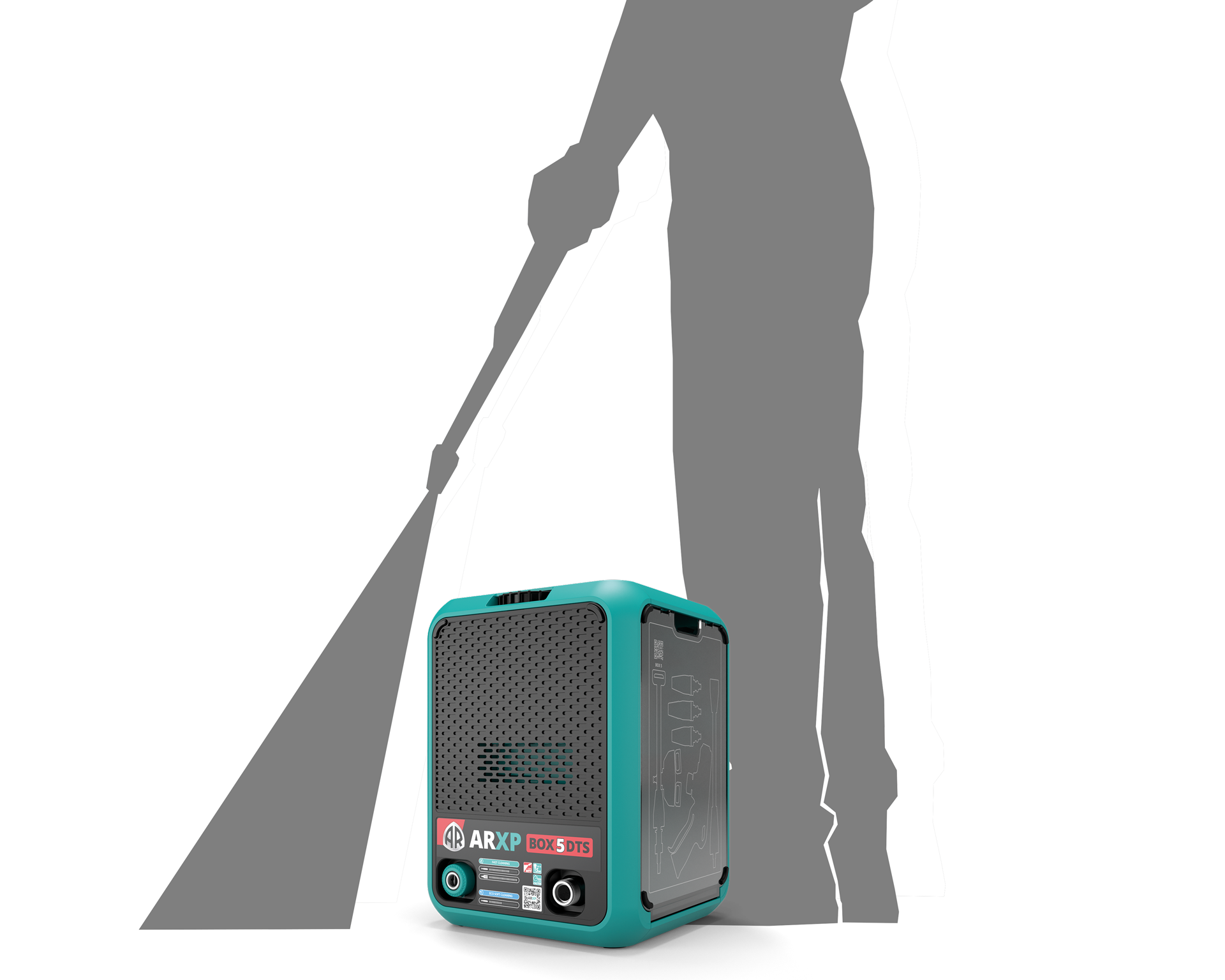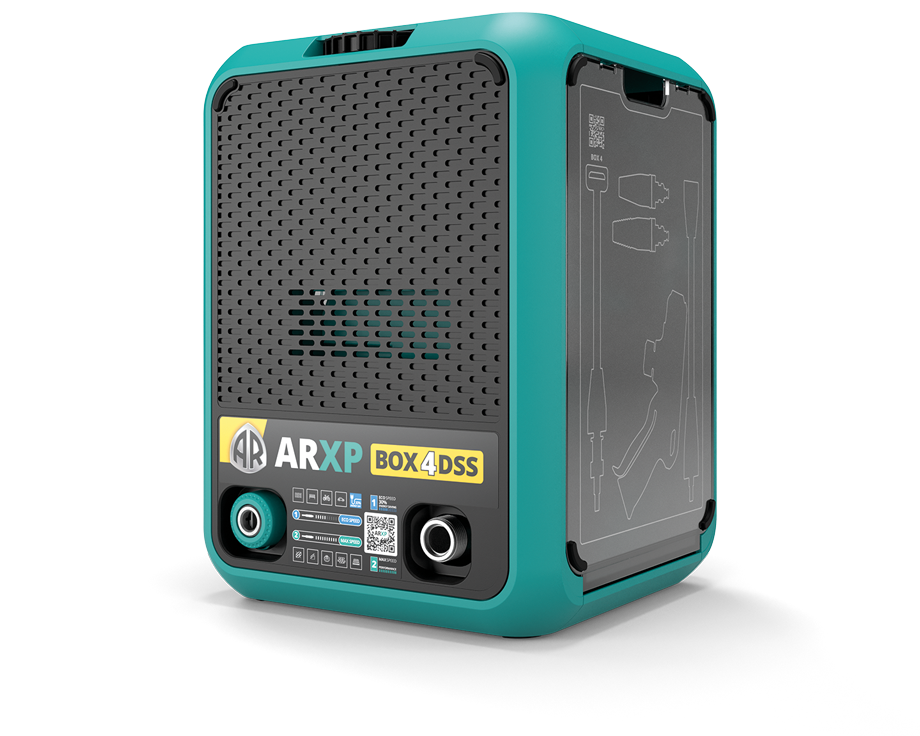 Two integral accessories compartments
Compact size: 25.8 x 27.2 x 35.7 cm
-85%
Up to -85% Overall size*
Small size and light weight for products easier to transport and stow away.
* Compared to standard Annovi Reverberi high pressure washers of the same power
180
Up to 180 bar pressure
Pressure and flow rate as high as or exceeding those of top-of-the-range home & garden segment high pressure washers.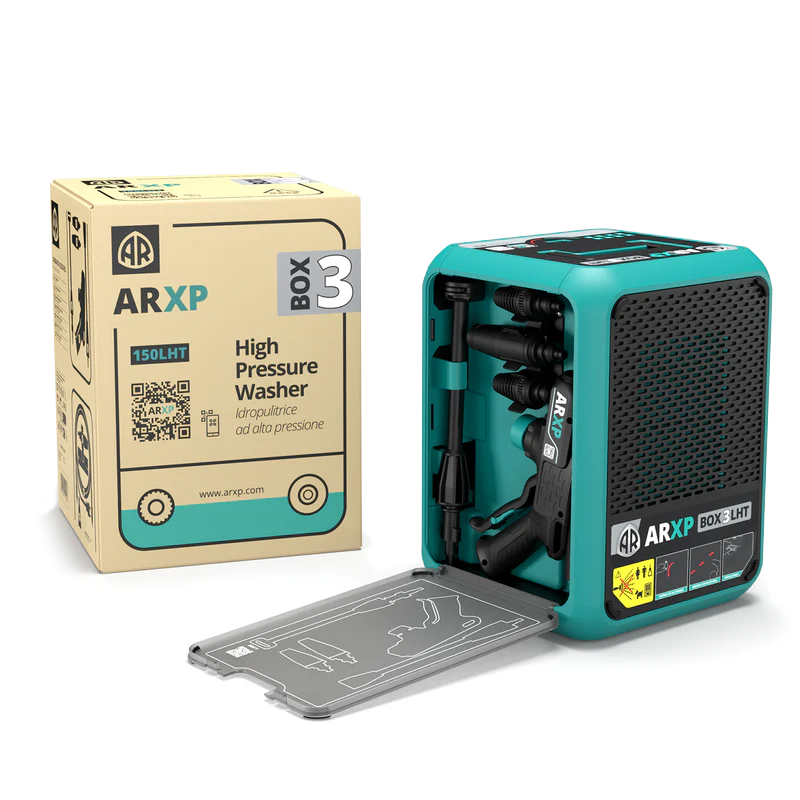 Conceived and Developed in Italy
All Annovi Reverberi products are conceived and designed in Italy by a team of experts working exclusively on research and development, feasibility studies, design and styling.
We've taken particular care over this last aspect for the ARXP BOX range, and achieved a high pressure washer totally different in shape from the others on the market.
Discover

ARXP high pressure washers allow effective, speedy cleaning of the home's outside surfaces, including walls, doors, glazing and windows. The right accessories must be selected for the surfaces and materials to be cleaned.

The first step in perfect outdoor hygiene is paving and keeping it thoroughly clean. This will ensure that the outdoor environment is always clean and reduce the amount of dirt brought into the home. A high pressure washer is definitely the best tool for this job.

A garden is well kept if its furniture, such as tables, chairs and loungers, is also well cared for. ARXP high pressure washers are the best tool for cleaning this equipment quickly.

To keep a motorbike in good working order and looking its best, it has to be washed often. A high pressure washer is very useful for this job, because it provides a perfect result in a short time. It's just important to choose the right model.

A high pressure washer can be useful for maintaining the external walls of your home and other outdoor walls and facings in stone, vinyl, aluminium, steel, brick, plaster or wood. This cleaning may be part of routine care, or may be needed to prepare surfaces for repainting.

With ARXP high pressure washers it's easy to remove mud, dust and debris that build up on gates, making them look unattractively grubby. 

Dirt, debris and leaves can also build up on outdoor steps, inevitably detracting from the home's external appearance. The most effective, efficient solution for keeping them clean is an ARXP high pressure washer!

A high pressure washer is the perfect tool for cleaning a swimming pool. ARXP can be used not only to wash the lining at the start of the season but also to clean the outside walls of above-ground pools. During the summer, ARXP can wash the edges to prevent dirt from ending up in the pool.

Paths, yards, balconies, terraces, gates, gutters, steps and walls: all these garden features need cleaning to remove the materials from the environment which build up on them. With ARXP high pressure washers, outdoor areas are soon clean and bright once more.

The ideal solution for cleaning these quickly and removing even the toughest, most inaccessible dirt is an ARXP high pressure washer.

Washing your car regularly is essential for keeping it in good condition. A high pressure washer is the ideal tool for bringing the shine back to your car!

A high pressure washer can be a great help for washing the hull and deck of your boat. It's an effective solution, since this machine emits a high pressure water jet that can sweep away even the most stubborn dirt.

To ensure that porches and pergolas do their job properly they must be correctly maintained; the first step in this is the right kind of cleaning, using an AXRP high pressure washer.

Many people find gardening a relaxing, regenerating pastime. With ARXP high pressure washers, cleaning the tools required will be, too!

A high pressure washer is the ideal tool for removing large amounts of dirt in a short time. It's therefore recommended above all for mountain bikes, because it can shift even the toughest mud deposits quickly and effortlessly.
Idropulitrici compatte e potenti
Idropulitrici potenti ed efficienti dal design compatto per una pulizia perfetta: scopri la nostra selezione di idropulitrici di qualità!
Le nostre idropulitrici sono dotate di potenti motori e pompe ad alta pressione, che ti permettono di rimuovere lo sporco più ostinato in modo rapido ed efficace. Nonostante la loro potenza, queste idropulitrici sono incredibilmente compatte e facili da maneggiare, rendendole perfette per spazi ridotti o per il trasporto.
Il design compatto delle nostre idropulitrici non compromette la qualità o le prestazioni. Abbiamo selezionato con cura modelli che offrono la stessa potenza e funzionalità delle idropulitrici più grandi, ma con un ingombro ridotto. Potrai ottenere risultati di pulizia sorprendenti anche nei luoghi più angusti, come balconi, terrazze o garage di piccole dimensioni.
Abbiamo una vasta selezione di idropulitrici dal design compatto, adatte alle diverse esigenze dei nostri clienti. Potrai scegliere tra diverse potenze, flussi d'acqua regolabili e opzioni di getti speciali per adattare la pulizia alle tue esigenze specifiche. Inoltre, le nostre idropulitrici compatte sono facili da trasportare grazie a maniglie ergonomiche e ruote resistenti.
La durata e l'affidabilità dei nostri prodotti sono una priorità assoluta per noi. Collaboriamo solo con i migliori marchi nel settore delle idropulitrici, garantendo la massima qualità e prestazioni a lungo termine. Ogni idropulitrice compatta è costruita con materiali resistenti e durevoli, per un utilizzo prolungato nel tempo senza compromessi.
Il nostro team di esperti è pronto a fornirti consigli personalizzati e assistenza nella scelta del modello di idropulitrice compatto ideale per le tue esigenze. Siamo qui per rispondere a tutte le tue domande e guidarti verso la soluzione di pulizia perfetta, che si adatti al tuo spazio senza sacrificare la potenza e l'efficienza.
Non perdere l'opportunità di ottenere risultati di pulizia professionali con le nostre idropulitrici dal design compatto. Visita il nostro sito web o vieni nel nostro negozio per scoprire la nostra selezione completa e le promozioni in corso. La tua soddisfazione è garantita, insieme a un servizio clienti affidabile che ti supporterà anche dopo l'acquisto.
Prepara la tua casa o il tuo spazio di lavoro con una idropulitrice compatta che unisce potenza e praticità per una pulizia perfetta in ogni angolo.
Got a query? We're here to help.
Check out the FAQs we receive from our customers. Still got queries? Contact our customer care. Our customer care operates from Monday to Friday, from 9:00 to 18:00 hrs. Average reply time: 24 hours
Which countries do you ship to?

We ship to Italy, France, Germany, Spain, Portugal, Austria, Belgium, the Czech Republic and Poland.

Delivery is not possible to the following locations:

Italy: Livigno, Campione D'Italia
Germany: the island of Helgoland and the territory of Büsingen
Spain: Andorra and Gibraltar, Balearic Islands, Canary Islands-Ceuta-Melilla
France: Corsica, New Caledonia, Saint-Pierre and Miquelon, the Wallis and Futuna Islands, French Polynesia and the French Southern and Antarctic Territories
How much does delivery cost?

Delivery is free of charge in Italy and abroad.
How long will it take for my order to reach me?

Delivery times vary depending on the product's country of destination.

Italy: 1-3 working days from the day of order

Europe: 2-4 working days from the day of order.
More information on the Deliveries page
To return a product purchased on this e-shop, you must inform us within 14 calendar days after the date when the product was delivered. To exercise you right to withdraw from the purchase, you must fill in the form on the Returns and Refunds page. The cost of return shipment of the product to your warehouse will be payable by the purchaser.
How do I extend the product's warranty?

To extend the warranty, you have to register the product by filling in the form on the relevant page. You must register the product within 30 days after the date of purchase.